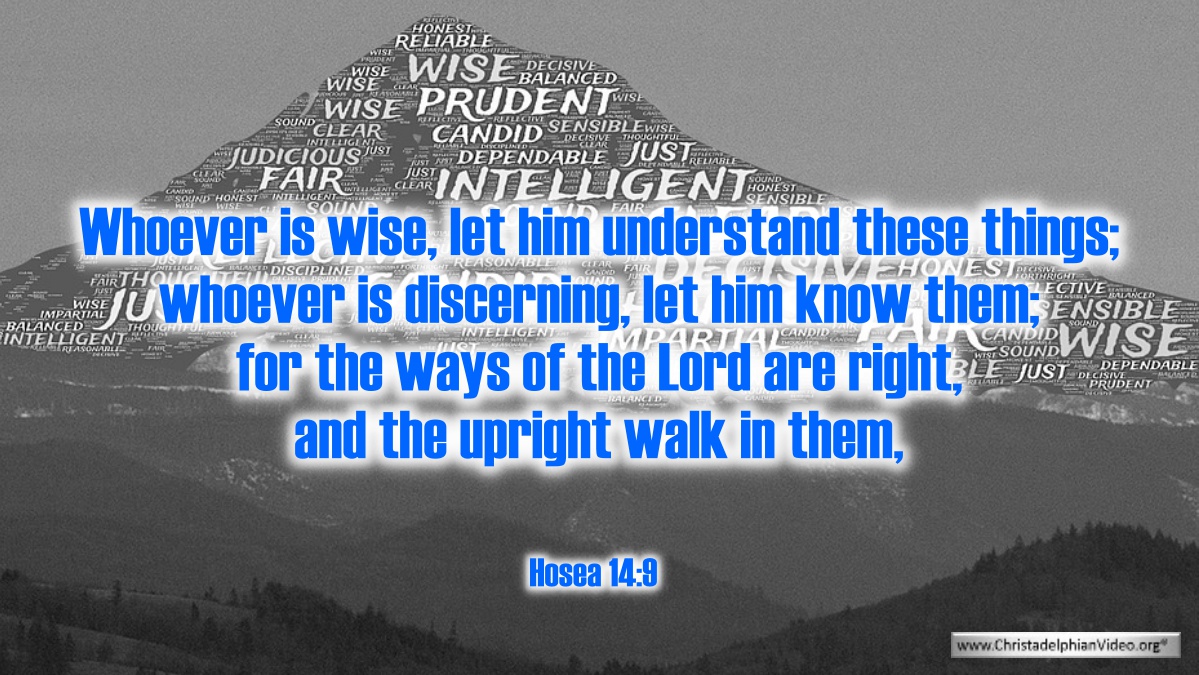 Todays readings.. Nehemiah 4, Hosea 14, 1 Thessalonians 3&4
    The above words are to be found in today's last verse at the end of Hosea.  What is he (or she) to understand? The complete verse reads, "Whoever is wise, let him understand these things; whoever is discerning, let him know them; for the ways of the LORD are right, and the upright walk in them, but transgressors stumble in them."
    This has ever been true, but how few are wise in the ways of God these days?  Today is like the final days of the northern kingdom to whom Hosea was bringing God's final appeal.  The appeal in the previous verse, after lamenting their passion for idols was, "It is I who answer and look after you" and they were blind to this fact, just as the world today is blind. 
     Now we specially note how God, through the prophet includes, in this last chapter, a vision of his ultimate purpose for his people, "I will heal their apostasy; I will love them freely … I will be like the dew to Israel; he shall blossom like the lily; he shall take root like the trees of Lebanon; his shoots shall spread out … They shall return and dwell beneath my shadow … they shall blossom like the vine" [v.4-7] 
    Who will blossom? "Whoever is wise" in the ways of God and seeks his mercy!
    The same message is in the words we read today in Paul's 1st letter to the Thessalonians. He told them "not to grieve as others do who have no hope" for the time will come when "the Lord himself will descend from heaven with a cry of command with the voice of the archangel, and with the sound of the trumpet of God. And the dead in Christ will rise first.  Then we who are alive, who are left, will be caught up together with them in the clouds to meet the Lord in the air, and so we will always be with the Lord" [4 v.13,16,17] 
And where will the Lord be?  Reigning from Jerusalem of course (Isaiah 24 v.23; Micah 4 v.7)  
   And the final words in our Thessalonians chapter 4! "Therefore encourage one another with these words."