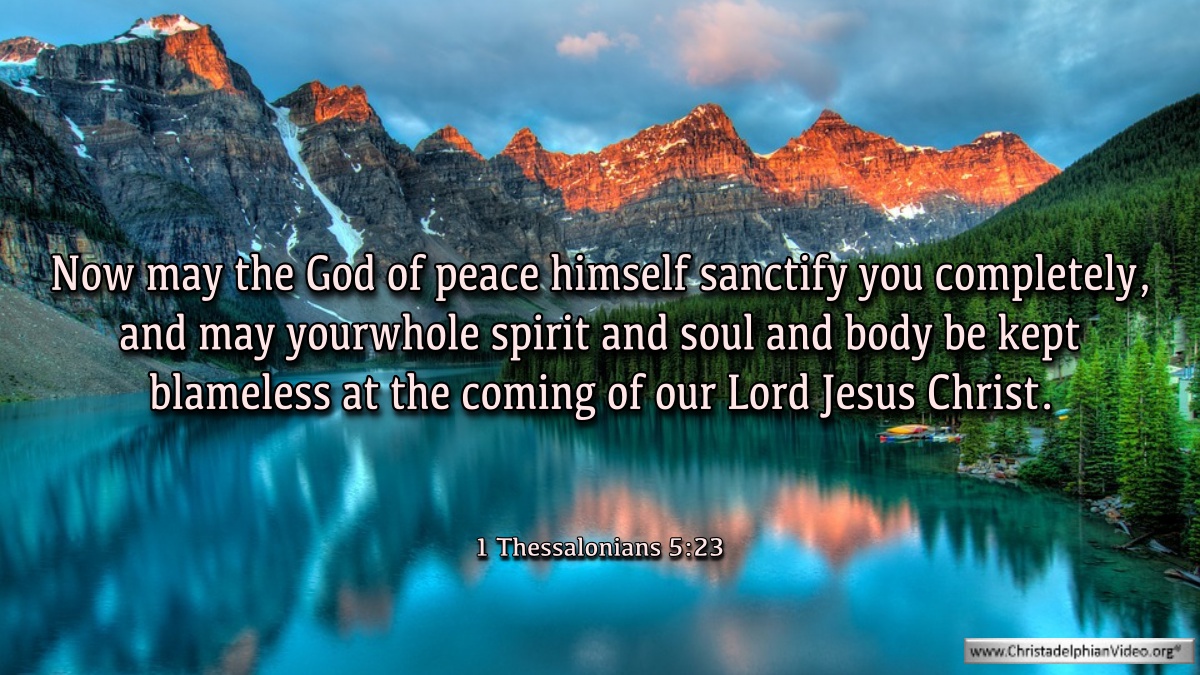 Todays readings.. Nehemiah 5&6, Joel 1, 1 Thessalonians 5
Every generation has thought it possible for "the coming of our Lord Jesus Christ." [1 Thess. 5 v.23] to occur in their lifetime.  Now what does the first part of the verse we have quoted above (and the 2 previous) say?   "test everything; hold fast what is good. Abstain from every form of evil. Now may the God of peace himself sanctify you completely, and may your whole spirit and soul and body be kept blameless at the coming of our Lord Jesus Christ".
Uncommon word "sanctify" – it is a word rarely used today – it means 'make yourself holy – in contrast to unholy!   There is nothing in between – there is a narrow way – or a broad way!
The opening verses of today's chapter cause heart-numbing meditation!  ""You yourselves are fully aware", writes Paul, "that the day of the Lord will come like a thief in the night; when people are saying 'there is peace and security' then sudden destruction will come …"  [v.2,3]
A big example of this occurred when I was just a child.  The British P M returned from an urgent meeting with the German leader Adolf Hitler.  They had made a peace treaty and he returned waving the treaty and saying 'It is peace in our time."   Within months Hitler broke the agreement and there was all out war in Europe for the next 6 years and something like 12 million died – and probably as many or more than that were injured, maimed for life! 
Today the powerful nations constantly act to try to keep the troublesome nations, such as North Korea, under control.  The masses of the people in just about all nations think there is no threat of major war between nations. The result is that they think the only threats are car and plane accidents and burglaries! Therefore they pursue every form of 'enjoyment' oblivious to the wonder that there is a God who, by his Spirit sees and knows all!
Let us remember that most meaningful 23rd Psalm of David – what a relationship he had with God! "He leads me in paths of righteousness for his name's sake … I will fear no evil, for you are with me … Surely goodness and mercy shall follow me all the days of my life, and I shall dwell in the house of the LORD forever."
David learnt, after his sin with Bathsheba how "goodness and mercy… (would) follow me all the days of my life'  These are words that express his faith!  May we follow his example so that "(y)our whole spirit and soul and body (is) kept blameless until and at the coming of our Lord Jesus Christ".   And how soon now – we are a significant 70 years on from when Israel miraculously became a nation again in 1947/48!