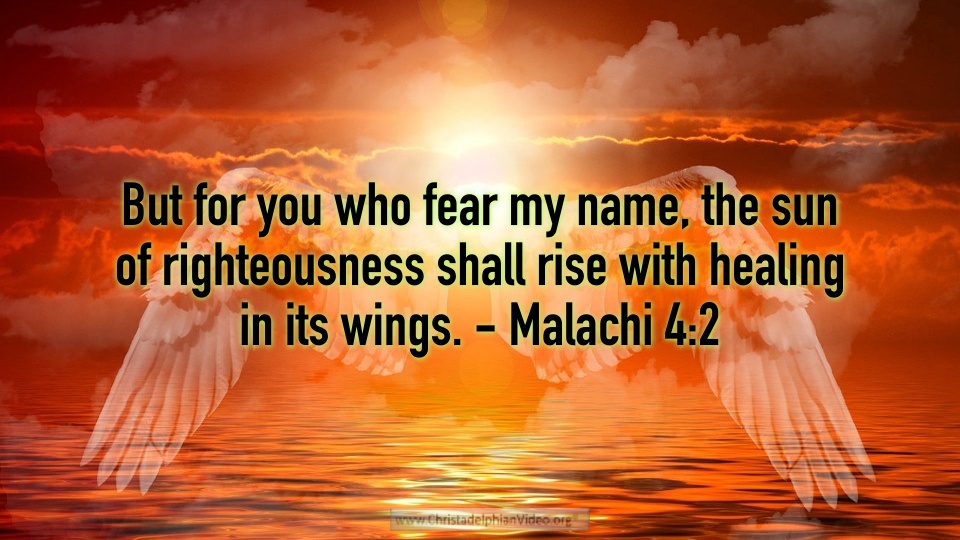 Todays readings.. Job 41&42, Malachi 3&4, Revelation 21&22
If you believe in God, are you in awe of him? This is the underlying sense of the word 'fear.' God does not want us to be scared of him as we might be scared of a bully or an evil person. The closing words of the Old Testament we read today show how God will in the climax of human godlessness deal with its'evil, "Behold, the day is coming, burning like an oven, when all the arrogant and all evil doers will be stubble." [Malachi 4 v.1] These are words which compare with the awesome parts of the Revelation chapters we read yesterday.
Then God reveals to Malachi an opposite vision. "But for you who fear my name, the sun of righteousness shall rise with healing in its wings. You shall go out leaping like calves from the stall. And you shall tread down the wicked, for they will be ashes under the soles of your feet … says the LORD of hosts." [v.3,4] Again, Revelation helps us to 'see' the meaning of the imagery of this wording.
There are comparisons here with the words of the LORD to Job in his final chapter which we also read today. We noted what Job acknowledged concerning God; "I know that you can do all things, and that no purpose of yours can be thwarted." [v.2]. This is Job's response to God's question, "Who is this that hides counsel without knowledge?"
Job says "I have uttered what I did not understand … I had heard of thee by the hearing of the ear, but now my eye sees you; therefore I despise myself and repent …" [v.3,5,6] It was Job's lack of "knowledge" in the sense of knowing, of having a relationship that was his shortcoming.
And for us, a 'real' prayer life is an essential step toward achieving this ourselves. Do we talk or write about things we do "not understand" at times? Hasn't this proved to be the case with some of our attempts to interpret and 'understand' prophecy over the years?
Job had known God in theory and, in that sense, had spoken "what is right" about him [42 v.7], not like the "friends" with whom God is angry. Job now 'sees' the awesome reality of what he had been talking to the 'friends' about. Job is surely one of those God was referring to in his words through Malachi, . "But for you who fear my name, the sun of righteousness shall rise."
         Let us all as 2018 ends develop a frame of mind, a spirit of meditation  so that this is also true of us – and our "fear" – that is awe of the "name" – this is our sense of the awesome character and power of the Creator is ready for when the "day" that "is coming" actually comes!  How awesome!  What 'real' faith we will surely need – and the time to make sure we have it is now!  2019 has all the indications of being the ultimate faith testing year